The journey one undertakes to find the right guitar is one that requires extensive research. The type of guitar, the sound, and the brand are a few common features which guitarists look for when looking for a new instrument.
One brand which is highly prized by guitarists, the world over, is ESP. Are ESP guitars good?
Yes, ESP guitars are indeed good. That's because they're assembled of high quality parts. A typical ESP guitar has a round, thin neck which makes it one of the most playable guitar brands. That's the same reason why ESP is so popular among metal guitarists. Thin neck is ideal for shredding.
ESP guitars are some of the most expensive on offer. The acronym stands for Electric Sound Products, and the company was started in Tokyo in 1975. Initially, they sold parts for guitars but evolved to manufacture guitars in the early eighties.
ESP = Thrash Metal
ESP's guitars rose to prominence in the 1980s in the thrash metal genre. Legendary bands such as Metallica, Megadeth and Slayer were few icons who were proponents of ESP's products. As a result of this partnership, ESP has risen to become the premium supplier of guitars in the metal fraternity.
What Do Guitarists Say About It?
Many guitarists have said that once you play an ESP guitar it is hard to revert to another brand. This may be an endorsement of ESP's workmanship, but the question remains whether this is true for all their guitars?
Other companies that use ESP parts
As we have learned, ESP began its business by selling custom replacement parts for guitars. Even though ESP makes guitars, several reputable manufacturers use the company's parts in their guitars.
These companies are Kramer, DiMarzio, OEM and Robin guitars. Their trust in ESP is a testament to the quality of ESP's workmanship.
Why would you purchase another brand when the parts come from ESP in any case? Since they began operations in 1975, ESP has come a long way, and now competes with the world's best guitar brands for loyalty from music enthusiasts.
Thinnest Guitar Neck
ESP, along with Ibanez and Jackson, are known to have the thinnest necks on the market. The thin necks are found on guitars called shredders, which are popular in modern-day heavy metal.
These guitars are designed for those who play fast and hard, and are shaped in the form of a "U."
The reason guitarists prefer this shape is that the round back makes it more comfortable to hold whilst jamming. Players who shred more than others will always opt for an Ibanez, ESP or Jackson, rather than a Dean, Gibson or Fender.
This is due to the comfort provided. Now that we have been introduced to the company and their design style, let's look at the different series they have on the market.
PROs of ESP guitars
Throughout this article, we have looked at the quality of ESP guitars. There workmanship, passion and attention to detail, that made them a favourite with rock stars across the globe.
Workmanship
We have seen that ESP is renowned for its high level of craftsmanship and attention to detail. Every guitar no matter the price is created using the best materials and is designed to be rocked.
Customizable Guitars
For your seasoned musician, ESP offers customized guitars, crafting it to meet the exact specs required by the artist.
Playability And Comfort
The meticulous design of ESP guitars makes it a comfortable fit for players who like to shred it. This is particularly appealing to heavy metal rockers.
Guitars For All Levels.
ESP has worked hard over the past decade to offer guitars suitable to all skill levels. Whether you are a beginner, intermediate or expert you will be able to find a guitar that suits your style.
Excellent For Heavy Metal
As we have come to learn, ESP made its name in the heavy metal rock game, and they continue to service the genre. Legends such as Kirk Hammett, George Lynch and Jeff Hanneman have all rocked out on an ESP guitar.
The who's who in the world of metal have endorsed the quality and performance of ESP guitars. This is absolutely a pro for the company. As aspiring artists, we look up to these legends, and if they find a guitar they can rock on, then it should be good enough for us.
CONs
It is difficult to talk about cons when it comes to one of the finest guitar brands on earth, but like anything, there is always room for improvement.
Price
The majority of guitarists who yearn for an ESP have noted that the price of these guitars is eternally out of their range. Whilst ESP has worked hard in recent years to offer guitars at an affordable price point, it is still out of the range of many.
Not all ESP guitars are in the league of the custom or signature series, but the medium range and entry-level ones will still set you back a pretty penny.
ESP Series
Like their competitors, ESP manufacturers a variety of different guitar series. This allows them to cater to varying levels of guitarists, from beginner to expert.
Custom Series
The custom series by ESP is designed for those who know what they want in a guitar and are likely professionals in the art. In other words, serious musicians.
This series is ESP's flagship range. The custom series is made in Japan, and are made to fit the specifications requested by the customer. The attention to detail that goes into producing a custom series guitar verges on OCD.
Due to the specific nature of this series, the price is at the higher end of the spectrum. Depending on your requirements, the cost of this guitar will vary.
The quality of the materials used to craft the custom series is of the highest standard. Combine that with the passion that goes into making their products, and you have one of the best guitars on the market.
It is important to bear in mind that good things take time. So, if you are looking for a guitar as soon as possible, this may not be for you. If you can wait it out, you will be rewarded with an incredible piece of craftsmanship.
Signature Series
The signature series is one that ESP prides itself on. For this project, they crafted a variety of guitars to match the exact requirements of legendary musicians.
This series pays homage to some of the greatest metal guitarists in history. Whether you idolize Kirk Hammett, Jeff Hanneman or George Lynch, grab a guitar with their preferred specs and start jamming out.
They have used ESP guitars with the same specs to wow crowds around the world for decades. Take a look at this one.
Esp Ltd Kirk Hammett Signature White Zombie Electric Guitar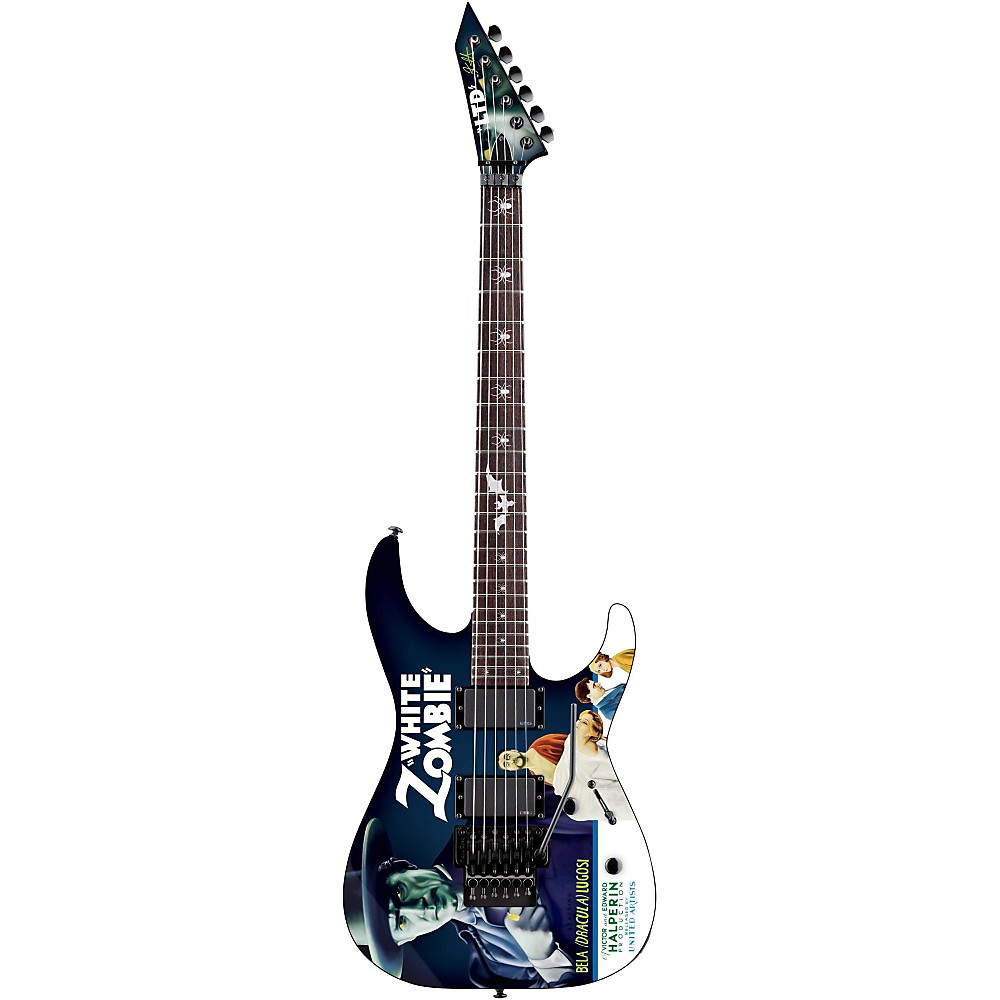 LTD Guitar Series
In stark contrast to the custom and signature series, the LTD series was created to offer a quality guitar at an affordable price. ESP released this popular model to the market back in 1996.
LTD guitars are geared to cater to all levels of musicians, from beginners to experts.
The LTD range is attractive to many who desire to own an ESP, but do not have the budget for a custom series guitar. That being said, the company has still produced this guitar with the same attention to detail and passion that made them famous in days gone by.
Guitarists can select from a wide variety of shapes and sizes as per their catalogue.
USA Series
We mentioned earlier that ESP is originally a Japanese company. But, their popularity among United States musicians made them a household name in North America.
In 2014, the company opened a factory in North Hollywood. The very same year, they decided to launch their USA series.
Similar to the custom series, musicians can have their guitars custom made. Not completely though, as the specifications of the guitar are set. However, you can choose your preferred body style with any finish that the company offers.
If you are after an epic finish in a guitar this is the option you want. The cost of this guitar may run you between three to four thousand dollars.
The E-II Series
We have already looked at the higher end and entry-level guitar options from ESP. Now let us look at their middle of the road range, the E-II series. In 2013, ESP launched this range in place of the standards series.
E-II guitars are the most affordable option in the ESP stable. Like the LTD series, these are produced on an assembly line, and there are no customizable options.
That does not mean that it isn't a well-made guitar. When you compare the E-II guitars to competitors' products in the same category, it stands out, head and shoulders above the rest. Take a look at this one.
Esp E-Ii Horizon Fr-Ii Electric Guitar Tiger Eye Sunburst
Final Words
In concluding, we set out to find if ESP guitars are good, and from what we have learned, the answer is clear. In short, yes, ESP guitars are good.
The level of detail which goes into crafting their instruments is nothing short of extraordinary. This is why they have gained acclaim throughout the heavy metal community as the guitar of choice.
It may be on the higher end of the price spectrum, but that is a direct result of the quality product that they create. If you have the budget and are into playing heavy metal music, then there is no other guitar brand on earth that you will want to have.
Don't forget to check out some other interesting articles from this site about various guitar topics and issues!
Cheers, and rock on!