Of the many guitar brands in the world, Ovation guitars are one of the most recognizable. If you're looking to get yourself a guitar, you may ask following questions. Are Ovation guitars good? Are they worth it?
In short, Ovation guitars are practical for live shows (they're lightweight guitars), and also for practice and fun. They are very playable (due to neck design) and you can find a good one for a reasonable price. However, their acoustic tone is not rich and full enough. That makes them not so good for studio, or for playing unplugged.
With that being said, you can check the article for thorough, in depth analysis of Ovation guitars. We will go into detail on the characteristics of Ovation guitars, what they are good for, and if they are a good fit for you. Let's start!
History
The US-based guitar manufacturer was established more than half a century ago after building the first Ovation guitar prototype in 1966. From that time to today, the company has had many changes and switching of ownership.

After being, shortly, the part of Fender Musical Group that stopped production for some years, the brand finally became part of the company Drum Workshop. Fortunately, the company reinstated the already closed Ovation factories.
Design
What stands out the most in all Ovation models is the typical synthetic material rounded back and sides.

The design of the guitars was inspired by the founder's Charles Kaman engineering background. More specifically, by his helicopter manufacturing background. The goal of the design, according to Kaman, was to make up for the flaws of most guitar models. In other words, reduce weight and feedback as much as possible and make playing more comfortable.
This is to a certain degree true. Many guitar players like the rounded back and sides. The rounded shape and lack of rough edges are comfortable for the body. Also, the lightweight of Ovation guitars makes them great in a live show situation when you have to hold the guitar with a strap.
Buthe fact that the backside is made out of synthetic materials is a big turn-off for a lot of guitarists, for which the materials and shape feel unnatural.
Soundholes

Ovation guitars model have 2 types of sound holes: 
Center soundholes are the traditional ones you find in almost every acoustic or classical guitar. Well-known models with a center soundhole are the ExoticWoods Collection series and Main Street/Main Stage Collection Series.
Elite Multi-Port Soundholes
The Elite multi-port soundholes are small soundholes places at either one or both sides of the neck joint in the body of the guitar. These types of soundholes make the guitar look modern and more "electric" feeling. They were made to reduce feedback as much as possible and they do help out with that.
The Mod TX Collection is the perfect example of modern ovation guitars with this particular soundhole design. 
The downside of the Elite Multi-Port Soundholes is that the acoustic tone of the unplugged guitar is sacrificed along with the volume. If you want to use the guitar as a campfire guitar then this soundhole design might not be great for you!
Neck
The neck of the ovation guitar was always built as a merge of an electric and acoustic guitar neck.

Since Ovation guitars were thought out as stage guitars for both rhythm and lead work, a slick fast-playing neck was necessary. Most Ovation models, especially modern ones, have a very thin neck to help with that.
To help with playing lead, many ovation models also feature a cutaway on the neck for easier access to higher frets. Usually 20, up to 22.
Headstock
The headstock of Ovation guitars has a signature added piece of wood in the end that always contrasts in color with the guitar. The headstock shape is the same for all models, both, and is a truly nice personalized touch.

Ovation likes to experiment with finishes and color, so you will find a large selection to choose from. Classic models come in plain colors, while modern ones come with finishes from Dark Burst On Exotic Poplar to more colorful Natural on Bubinga. 
The Mod TX Collection is one of the electric looking ones with the Black Textured finish. That is not very usual in acoustic-electric models.
There is the option of choosing guitars of different depths, from Grand Auditorium 4.5″ / 114mm to super Shallow guitars. The depth of the guitar affects the tone a lot when usually guitars with more depth have a fuller tone and more balanced mids and low end.

Ovation guitars, however deep they are, are not comparable in richness of tone when played acoustically with top brands like Martin or Yamaha that share similar specs and prices.
To conclude, the design of Ovation guitars is unique and optimized to a good comfortable extent for a live stage electric-acoustic guitar.  However, their design in both appearance and functionality might not suit everyone as it deviates from most other brands' designs.
Materials and Built Quality
Ovation is one of the first guitar brands to use synthetic materials in their guitars.
The body of Ovation guitars is generally made of a synthetic material called Lyrachord. A material that can be can be made as thin as desired for vibration purposes and yet remain very strong.

The combination of the tone of the soundboard which is made out of different tonewoods, resonating with the Lyrachord, is what makes the acoustic tone of Ovation guitars.
The reinforced materials used mean that you will have far fewer problems with humidity and temperature with an Ovation guitar than other models.

Different models will use different tonewoods for the neck. The most common of them is mahogany. New models have 5 piece neck design that assures the neck is always stable.
The fingerboard's tonewood range from Pau Ferro, Ovangkol, and other tonewoods similar to the common rosewood in color and characteristic. 
Even though Ovation was one of the first, today many guitar builders are using synthetics materials. The upside to them is that they are more eco-friendly and need less maintenance, but on the other hand the tone of the guitar is affected. The tone is usually not as rich and full as the tone from a good tonewood guitar.
The tuning keys and bridge get the job done and keep the guitar in tune. There has been no guitar players complaining about the tuning stability of a good set-up Ovation guitars. That is an essential quality for any guitar to have.

Regarding built quality, even though Ovations are considered entry-mid range guitars, you won't find any "flaws" in the build, like poor fretwork or cheap tuning string.
If you decide to buy one, rest assured that even the cheap models won't have problems with the built that are obvious or get in the way of your playing.
Electronics
Probably the best feature of Ovation guitars is the pre-amp and pickup system.

Ovation guitars were always meant to be played on stage and have optimized their model so that they sound better plugged in. The preamps have changed a lot during the years, but they are usually very clear and flat. Meaning that they avoid coloring the sound of the guitars.

The design of the guitar is made to avoid feedback and it helps to get a clearer guitar tone on stage. Most models have also a built-in tuner and also 2 options to plug in the guitar, a standard Jack and Xlr.
One of the most used pre-amp systems is the Op Pro Studio which includes all the features above along with 3 Band EQ, Drive, Gain, Min Expression controls.
In general, the electronics of Ovation guitars are well worth it and a safe option for live shows. However, they won't enhance the tone of the guitar if you don't like how it sounds acoustically. 
Playability
The feature common in all Ovation models is the thin neck radius that tends to make them more playable.
If you are looking for an acoustic-electric guitar that is in some aspects more similar to an electric guitar in terms of playing, then an Ovation acoustic-electric guitar is a great choice. 
Lots of rock players have chosen Ovation guitars because of this reason. It's easy to play lead guitar and imitate what you normally play easier in an electric.
However, the thinner radius makes them not so great for fingerstyle players. 
Also, even though the neck is thin and the action can be set low, the feel is not that similar to a good set-up electric guitar, as it's something in between acoustic and electric.
One very good quality that Ovation guitars share that affects playability a lot is intonation. A well-intonated guitar makes you sound better, while a poorly intonated one will make everything your play sound awful.

The fretboard of cheaper models can feel a bit "grainy" and rough. Still, for the entry and mid-range price it's hard to find other brands that are this playable.
For What Genre Are Ovation Guitars Good For?

Generally speaking, Ovation guitars are good performance guitars for pop, rock, jazz, blues, etc. Speaking broadly in the perspective of a mix, if your guitar is used as one of the elements making up a mix or a live show, or if you would like to solo on the acoustic, Ovation guitars are very good. 
If the guitar, however, is the main instrument, Ovations guitars might not be that great as they lack the "body" on the tone.
Most Ovation guitars lack the classic mid-range of a big body acoustic. Precisely that makes them not that great in genres like country and folk, where that sound is needed.

Singer-songwriter type of musicians also might prefer Ovation guitar that has a deep body or choose a classic dreadnought to serve as a fuller backing for their vocals. The same can be said for fingerstyle players that need the whole frequency range an acoustic guitar can offer.
An Ovation will sound good plugged in but if you mic one in the studio you will not get the result you want from an acoustic.

With all these said, Ovation guitars are very practical as touring guitars as they are very stable, stay in tune, and sound clear when amplified.
Tone
The most important quality of any acoustic-eletric guitar is its tone, both plugged and unplugged. 
Ovation guitars tone generally is well balanced and clear. There are good note separations when strumming ovation quite a lot of sustain for single notes. However, the guitars lack the fullness or richness of big body acoustic guitars. They are not guitar any professional musician would choose to take in a studio.
Plugged in guitars do a great job in keeping the clearness of tone. Still, the good preamp cannot compensate for the lack of acoustic sound qualities. You can get through a lot of lows if you tweak the EQ when plugged in. But in the context of acoustic guitar playing, the mid-range, full, and "woody" sounding is where you want to be.
Overall, for the price, the tone is good for a live gigging situation. For fun and practicing, also. However, if you want to take things a step further and record your playing, Ovation guitars are not the best you can choose.
Well Known Models And Price Range
There are many Ovation models, but the main categories we can divide the guitars are the entry levels ones, intermediate, and high-end elite models.
Ovation has a guitar model of "everyone." Whether you are a beginner guitarist buying your first guitar or a seasoned player looking for a good practical guitar for live shows.
Some entry-level guitars are the CC24 and generally the whole celebrity series of guitars. These guitars keep the qualities of more expensive ones but sacrifice somehow on the tone, which might be a bit duller and "plainer" compared to more expensive models.
Great mid-range Ovation guitars are these Ovation CE44 models.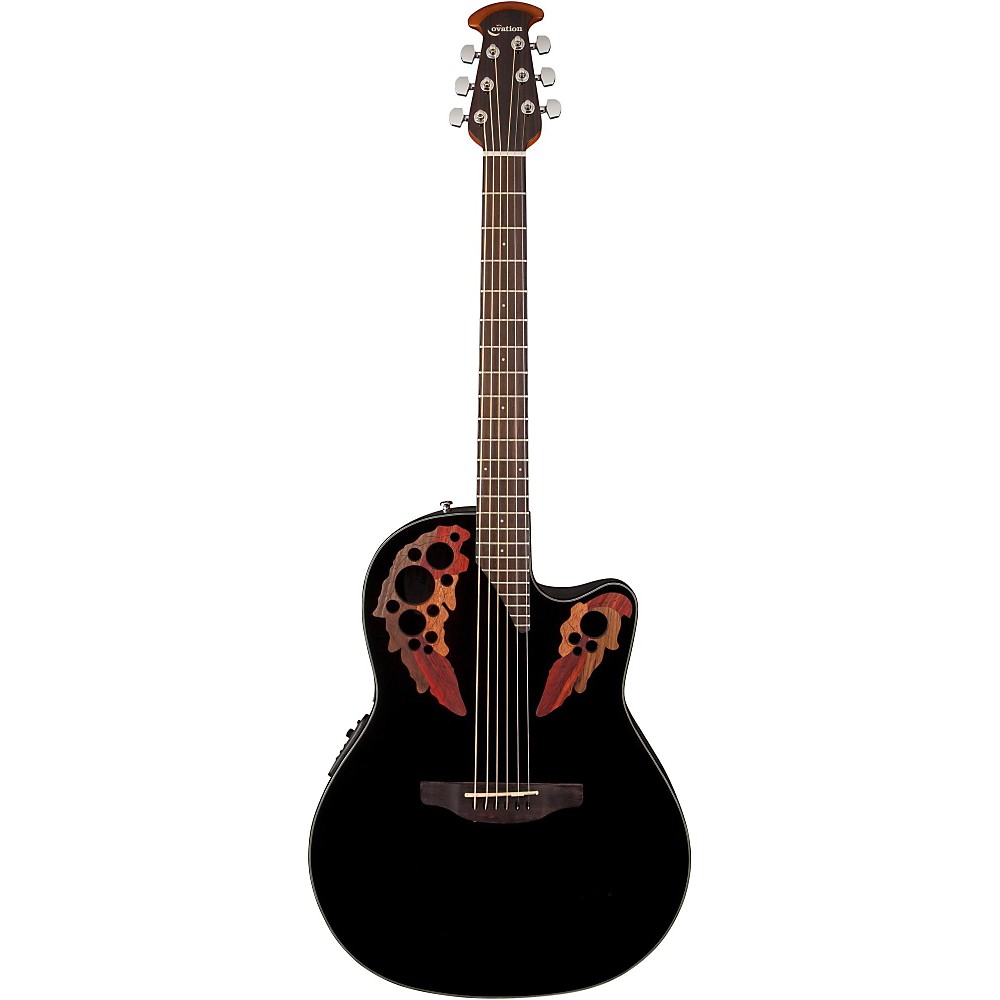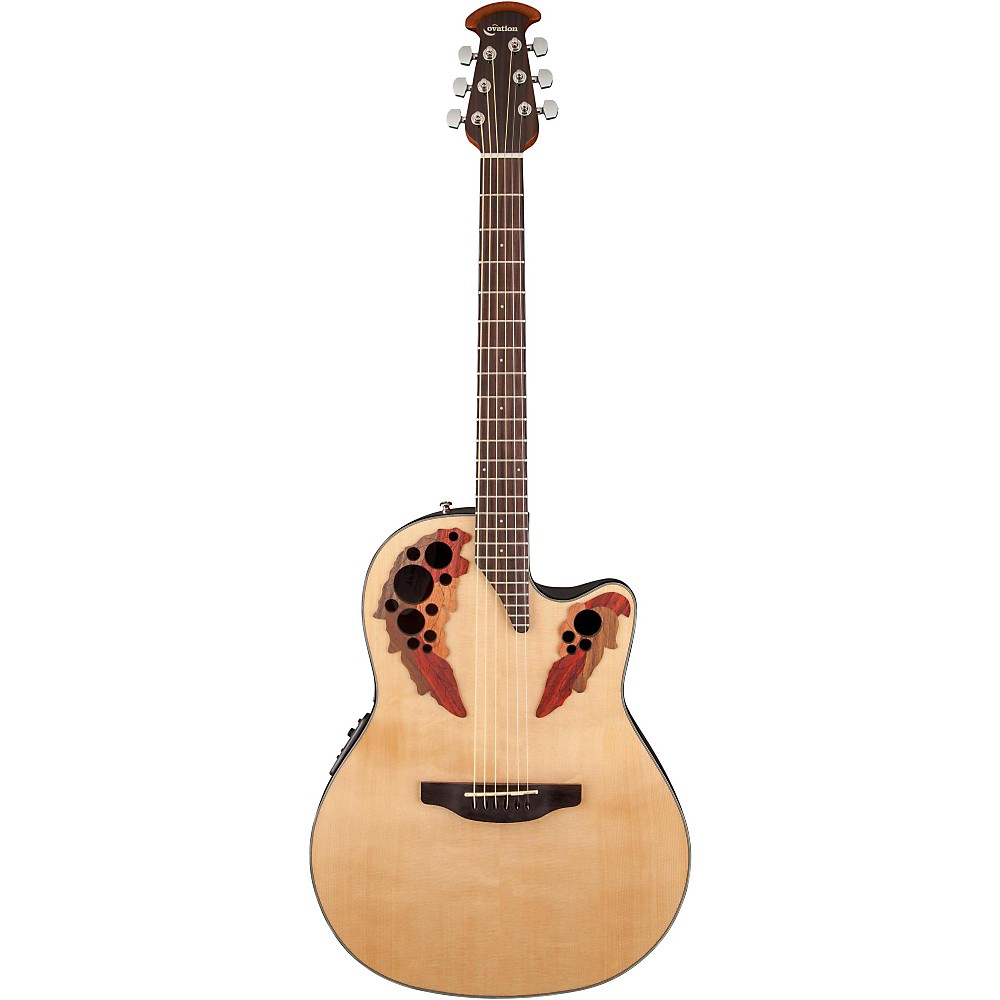 Both models range around the same price point of about 500 bucks and are probably the best representations of mid-range Ovation guitars with a fast playable neck and well-balanced tone. 
Both these guitars features a fiberglass material back, a gloss finish, rosewood fingerboards, and Multi-Port Soundholes. The electronic are  P-4BT with Ovation Slimline Pickup which is very clean sounding. 
Both preamps, as in most Ovation guitars, feature a tuner, 3 band EQ, and gain control.
In the more expensive category, we can put the Main Stage Balladeer series and The ExoticWoods Collection whose price tag is something above the 1000 USD mark.
There is also a premium series called Adamas that feature premium components, high-tech materials such as carbon fiber, a great mix of tonewoods, and first-rate OP-Pro electronics.
The Adams series comes with a very expensive price tag rivaling big brands such as Martin. However there is a good reason for the price as these models are probably some of the best in the world at what they do, that is being a great medium between acoustic and electric guitar.

For players that want a more special tone Ovation also offers 1w string guitars and acoustic-electric double-neck guitars!
In this video, you will see some different Ovation models in action.

Famous Guitarists That Play Ovation Guitars
Many music greats have played Ovation guitars during the years.
Al Di Meola is a big Ovation player and can be seen playing them live many times. Yngwie Malmsteen has a signature Ovation line. Both are highly technical players that play fast lines and need comfortable fast-playing necks.
Ovation guitars were very popular in the '70s and '80s with Glenn Campbell being one of the biggest endorsers.
Musicians like Jim Croce, Nancy Wilson (Heart) Ritchie Sambora (Bon Jovi), Nikki Sixx (Motley Crue), Sully Erna and Tony Rombola (Godsmack), Kaki King (contemporary acoustic player), and many other players have chosen Ovation guitars for their live shows. 
As you can understand from this list, Ovation guitars were very big during the last century but quickly lost their popularity in the rise of the new millennium. 

Recap
Even though they are considering nowadays as entry-mid level guitars, Ovation guitars have something to offer to everyone. Everyone who wants a comfortable, highly playable guitar whose tone is in between that of a traditional acoustic guitar and a bright clean electric guitar.

If you want a good beginner guitar, then an Ovation will be great. If you are looking for a guitar for live shows, Ovation has a reputation of being very "practical". That's because when they're plugged they sound very stable and clean with a mid-range that sits great in a mix.

The area where Ovation guitars lack is the acoustic tone, which is noted very full or rich as in a big dreadnought style guitar, making them not a great choice for the studio or if you want to get that big, fat acoustic tone.
I hope this article provided you with a good chunk of information. Before you go, take a look at other interesting articles on this site.
Cheers, and rock on!