So, you love Slipknot, Meshuggah, Periphery and other bands that love to play in low tuning?
Suppose you wonder what guitars do they use? What guitars can be played in low tunings without any problems? And what guitars are the best for low tunings.
Here, in this article, I'm going to present you a list of best guitars for low tuning.
Hope you'll like it. Let's go!
Ibanez Rg421 Electric Guitar Blackberry Sunburst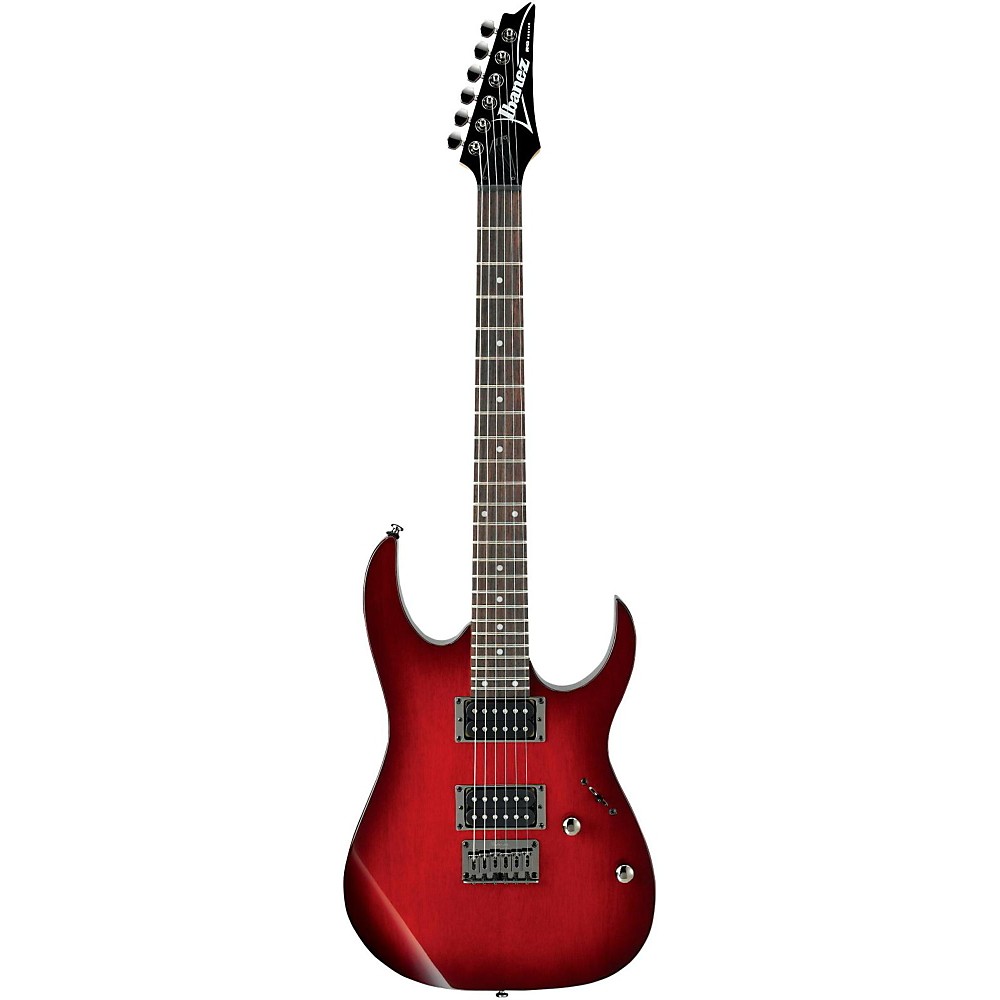 Clicking Image Leads To Guitar Center
My Opinion
I'm a metalhead, so Ibanez is naturally a guitar I look for. This particular model is pretty solid when it comes to low tunings, from my experience.
I believe it is because it has a fixed bridge. In other words you get no Floyd Rose intonation and balancing issues. Also, it has a long 25 inches scale to cope with string tension.
Adding to this, the extra thin and easy to play Wizard III neck is just superb.
One of the advantages is the price.
This guitar is a great deal available for those who are buying a guitar on a budget and want to get the most bangs for the buck possible.
The color is also pretty cool. However, it all boils down to what you like. I simply like this sunburst finish.
Cons
For me, the biggest disadvantage of the guitar is it doesn't have tremolo system, and that's kinda turn off if you're into prog metal stuff like Dream Theater. Well, it is a trade off, actually. Fixed bridge provides you with better tuning stability, but also it restricts you in terms of playing.
Also, while it can be played on C# without problems, pushing it down to drop A may be just too far, as it's only a standard 25.5″ six string guitar.
Check how it sounds like in this Youtube video.
Schecter OMEN EXTREME-6 BCH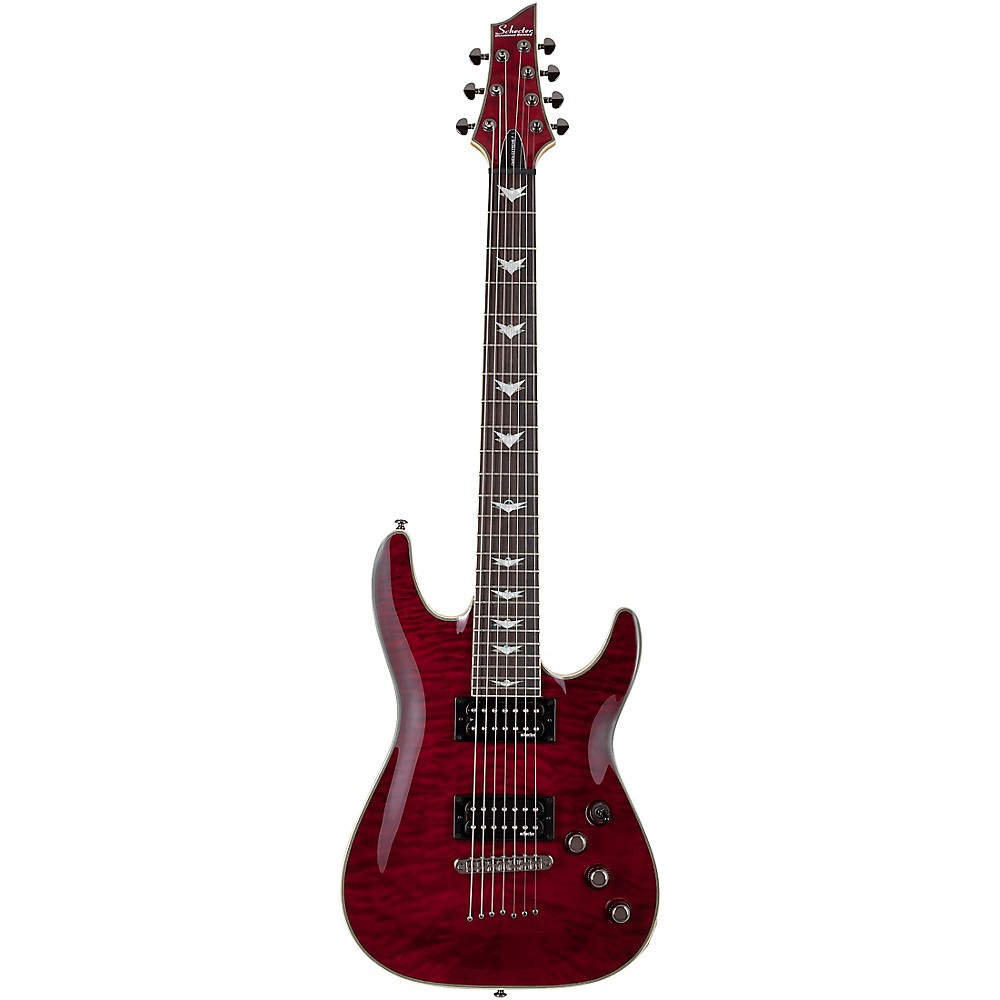 Clicking Image Leads To Guitar Center
Another brand that is very close to the metal heads and low-tuners in the world is Schecter.
This company has been around since the mid'70s. It has dedicated much of its later years to the production of instruments for players of metal and hard rock.
My Opinion
The Omen Extreme also has the long Fender-like 25 inches scale. This length of 648mm from bridge to nut makes it a great guitar for low tuning because the string tension is steady and strong.
The double cutaway and 24 frets are great for those high-note solos in the middle of the down-tuned doom. In my experience with the guitar, I have gone even further down than drop C tuning, and it remain completely stable.
Schecter-designed pickups prove to handle low frequencies perfectly well. The stop tailpiece with the strings through the body help intonation and low end.
The neck is bolt-on and it gives some added stability to the guitar too. We can discuss the color, but I think the dark cherry looks killer.
Cons
The guitar is just too heavy! Honestly, I really don't like unnecessary heavy guitars. I mean, you can play it easily while sitting. Playing it while standing, however, will make your arms tired quickly.
Check how it sounds like from this Youtube video.
Squier by Fender Affinity Jazzmaster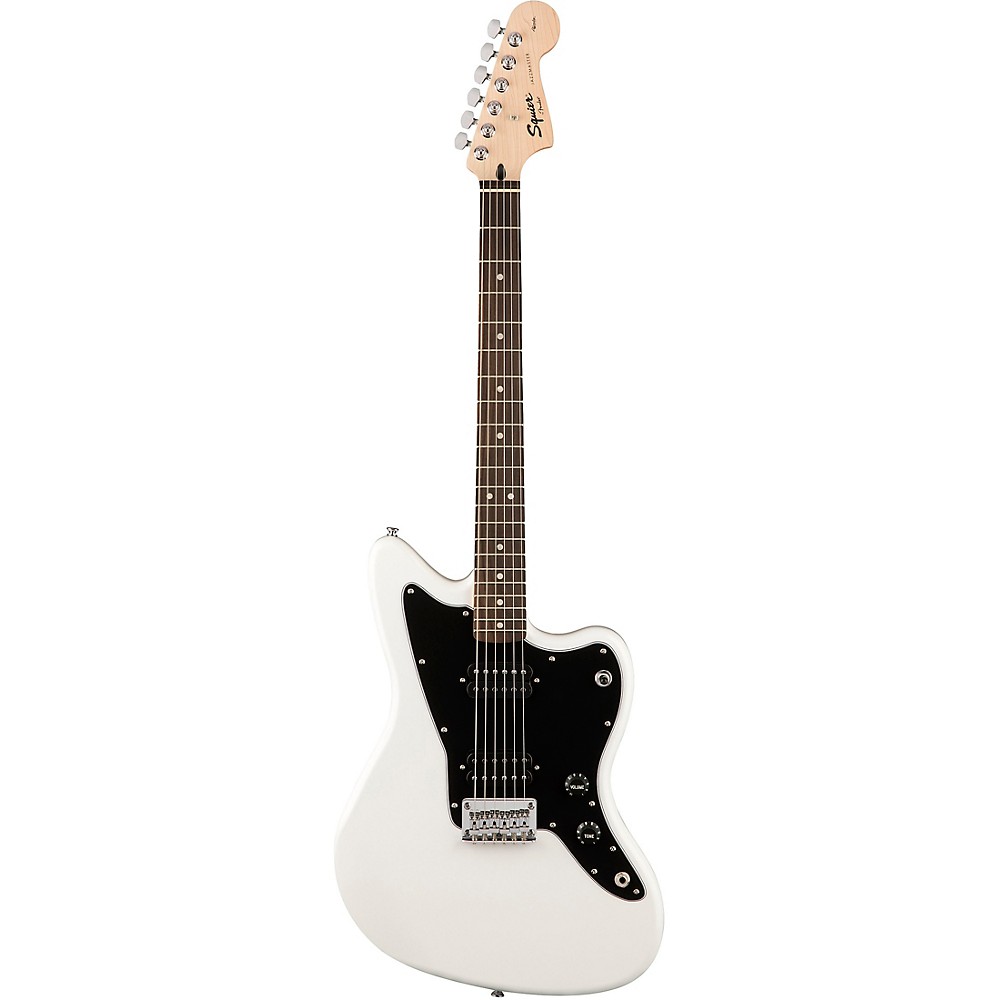 Clicking Image Leads To Guitar Center
Squier is the second brand from Fender. They have some decent instruments to offer. Especially to those who don't want to or can't put the money down for a Fender.
My Opinion
This is the case of this jazzmaster, a baritone instrument with a scale of 762mm. It can handle any tuning you throw at it. You can put some heavier strings and take this instrument down to A. It will handle all your notes perfectly.
The dual soapbar pickups are P90s, not humbuckers. That means you can put in some more distortion on your amp or pedal and not be afraid of it being too much. The fixed bridge also helps tuning and intonation.
If you haven't played a baritone instrument in your life, the longer neck might feel a little strange. But don't be afraid. It will become familiar in no-time.
Cons
While the guitar is versatile, I personally wouldn't use it for metal. I'm telling that because when it comes to low tunings, we're talking mostly about metal music.
See how it sounds like on Youtube.
Fender Limited Mahogany Blacktop Stratocaster
Another guitar from Fender that can be a great companion for your low-tuning adventures is this limited edition blacktop.
In any case, the mahogany body can resonate better with those low frequencies. But any guitar from the Mexican-made Blacktop series will be just fine. The 25 inch scale is great for stability. Fender synchronized tremolo will not interfere with your tuning at all.
The Stratocaster is, perhaps, the most familiar and well-known of all guitars in the world. This dual-humbucker combination is a complete winner. You can go as low as drop C or even B on this guitar without much effort.
It is possible to find it as a Telecaster as well. The colors are very Fenderesque. If you look for something more menacing, you can skip through to the Jim Root model or find it in a brand like Ibanez or Schecter.
Check additional specification and customer reviews, as well, on Amazon, here.
Also, see the review video in which you can hear how it sounds like.
Ibanez RGIXL7 Iron Label 7-String Electric Guitar Black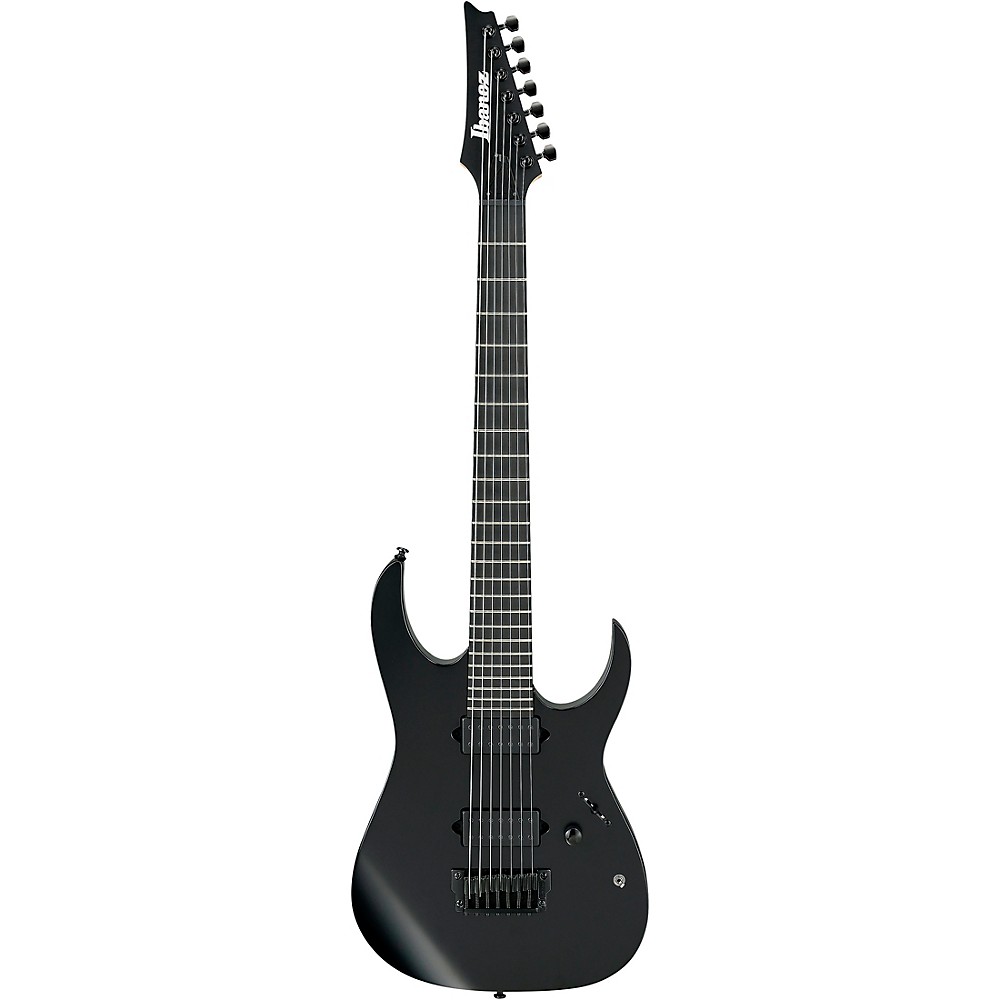 Speaking of strats and super strats, this Ibanez model belongs to the Iron Label series of guitars that sit comfortably between the 25 inches of the Fender scale and the 27.7 inches of the full-baritone guitars with a comfy 26.5".
My Opinion
Low tuning and ease of use are just a little part of what this guitar can do. It comes equipped with a fixed bridge. Together with the scale it can help you go down to drop A. Without any problems.
You can find it in many pickup configurations that help the mahogany body resonate properly with those low frequencies. The Wizard neck is so comfortable that you will not be able to put this guitar down.
If you are on your way to baritone guitars, this can be the perfect middle station in that train ride. It is important to get used to the length of the neck before you can go an inch longer.
This is a 7 string guitar, which is great for low tuning. And the genre of metal that usually use low tunings.
Cons
It's a bit expensive guitar. 900 bucks can be too much if you're on a budget.
See the review on Youtube.
Supro Westbury-Baritone Electric Guitar
Not everyone who tunes down the guitar is in the pursuit of metal tones. Therefore, this Supro Westbury is a perfect pick for them.
It is a baritone guitar with a slightly shorter scale at 26.75". It that can be tuned down to C, B and A without problems. Also, it is a set-neck guitar which gives it a lower growl and more sustain than bolt-on designs.
The Gold Foil pickups are well-balanced with some great low-end, crispy highs and great mids. It is not an aggressive guitar. It is more of an instrument to play some beautiful clean tones and light overdrives.
You can get some jazz out of the neck pickup and play complex chords with amazing articulation and tonal quality. The guitar comes set up from factory with 0.13 strings to plug and play right from the box.
Check it on Amazon, here.
Also, here's the video in which you can hear how it sounds like.
PRS SE 277 Baritone Electric Guitar
PRS is no strange to low tunings and if you think back to the 2000s those who weren't playing Ibanez or Schecters were playing PRS. This is a baritone electric which means that it has a full 27.7 inches scale.
The body is completely made of mahogany with a maple top so you get the low growl to play the metal tunes you want. Also, some high-end bright tones are coming from the maple top to play other styles.
The hardtail, fixed bridge helps a lot to the tuning stability of the instrument and it is easy to tune it down to A without problems.
It has a dual-humbucker configuration and it can come and go from the Supro cleanness to the Ibanez Iron Label dirt. The PRS-made 85/15 "S" pickups can handle literally any drive and frequency type you can throw at it.
Feel free to check it out in more details on Amazon, here.
And, of course, hear how it sounds like.
ESP LTD SCT-607B1H Stephen Carpenter Deftones Signature Baritone 7-String Guitar
Getting close to the 1000 dollar mark, we have the guitar of a down-tuning legend as is Stephen Carpenter, Deftone's guitar player.
First thing I have to say about this comfortable instrument is that it comes in some very daring colors and that it plays marvelously well. This is the Korean version made by ESP's cheaper brand called LTD.
It is not only a baritone guitar. It is also a 7-guitar baritone guitar with a 27" scale on a maple neck. The construction is neck-through (the neck set goes through the body) into a mahogany body.
It features only one pickup that is a Fishman Fluence SRC pickup that is capable of some really great tones.
It comes with an original hardshell case and if you can get the satin purple and have what it takes to use it, just go for it.
Check how it sounds like on Youtube.
Fender Jim Root Stratocaster
In case you don't know who he is, Jim Root is one of Slipknot's guitar player. Yes, he plays in one of the world's heaviest bands with a Fender Stratocaster.
This guitar is close to 1500 dollars and is very well-built in the USA. It features dual EMG active pickups and an ebony fingerboard on a maple neck bolted on a mahogany body.
It is finished in satin black with black hardware and a black fender logo on a maple headstock. The EMG 60 & 81 along with the modern C shape neck profile can help you nail some very accurate tones.
Still, beware because they show all nuances of your fingers too.
Check how it sounds like on Youtube.
Gibson Les Paul Studio Baritone
For ultra-low tones and Gibson fans, this baritone guitar features a 28" neck!
Yes, a regular Gibson Les Paul features Gibson's signature scale of 24.75" and is very difficult to get the right tension in low tunings with a smaller-scale neck.
The mahogany body, maple top and ebony fingerboard make the low-grunt of this Les Paul a beautiful, down-tuned and musical compendium of notes.
Gibson's own 490R and 498T are clear, articulate and powerful enough to handle even the most distorted notes. As any other Gibson Les Paul, the looks, comfort and ease to play are superb.
Check how it sounds like on Youtube.
Conclusion
I hope this article helped you in deciding what guitar is right for you. There are many guitars suitable for playing in low tuning.
Guitars described are the ones I found to be the best deal.
I hope you enjoyed reading this article, as much as I enjoyed writing it. If that's the case, I'm more than happy about it.
Don't forget to check out more interesting articles from this site!
Cheers, and rock on!